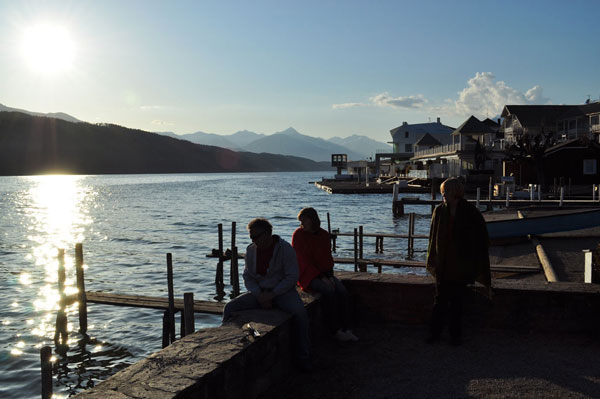 Although a quiet small hamlet, Altersberg is situated in an area of Carinthia (Kärnten) within an easy day trip of many world famous tourist attractions. Salzburg is a mere 150 kms north on the A10 motorway. There is a daily tourist bus service to Venice where you can wander the narrow streets for hours tasting the local wines without the worry of a drive home. Hallstatt, a world heritage site, is well worth a visit and a short drive through some beautiful mountain scenery.
Note: All photos were taken by us on some of our many outings.
A little closer to home you can enjoy the many wonderful sites that this area has to offer, swimming in crystal clear lakes, year round glacier skiing on the Mölltaler glacier, wandering up beautifully scenic routes to traditional mountain top "Almhütten" (small wooden huts serving food and drink), taking a ride on the Reisseck funicular railway, cable car to Goldeck, visiting the many national parks nearby such as Nockberg and Hohe Tauern.
Gmünd, a medieval town dating back to 1100 AD and an artist's paradise sits at the entrance of Maltatal, a beautifully scenic valley winding it's way past the highest waterfall in the area, and up some breathtaking scenery ending at the gigantig Malta dam. The valley is ideal for unstressful bicyle rides, my favourite type....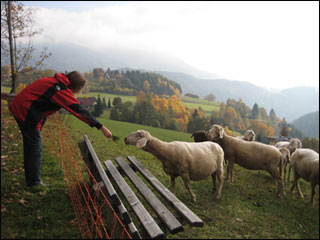 Webcam
Of course some days you don't have to go anywhere. There is a conveniently close (starts outside the house) children's educational forest walk, with many interesting attractions culminating in Europe's longest hanging bridge. You may also just wander across the road and have the children play with the neighbour's pygmy goats and ponies.
Shopping is only a pleasant 10 minute drive down the mountain. Either Seeboden (5kms) or Spittal (8kms) offer a wide variety of shops, supermarkets, restaurants, and outdoor cafes to make your stay a pleasant experience.
live view from the house at 900 m facing south east towards Italy and overlooking the towns of Spittal and Seeboden, the 2200 m peak of Goldeck, and the Millstättersee.